I'm Wayne Moran, and I've been doing computer sales & service in the Effingham area for more than 20 years. You might know me from the radio stations in Effingham, where I've worked for most of the last decade. Prior to that, I worked as lead tech for a couple of local computer places before branching out on my own.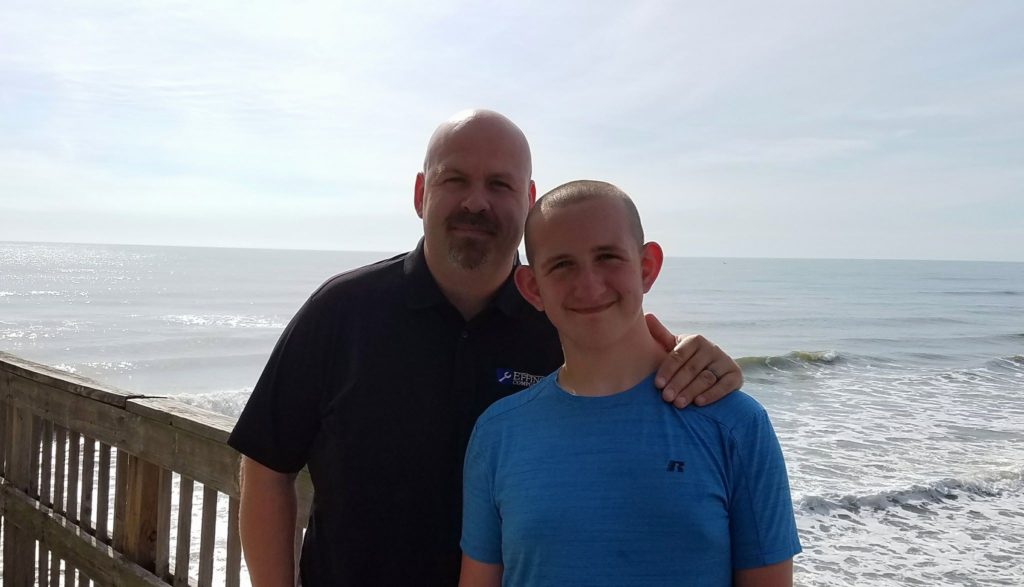 My son Austin and I in Florida, June 2017
In 2016, as we went over 500 customers, my computer business was taking over most of my day, so I made the made the very difficult decision to leave the security of my full time job at Premier Broadcasting and take Effingham Computer Sales & Service full time.
Fast-forward to 2021, and after many years of operating my shop from my home, we made another big jump, moving into our first retail space inside the Village Square Mall. We also expanded our inventory, with many parts and systems in stock. We're open Monday-Friday from 11am-6pm, and 10am-2pm on Saturday. And yes, I still do service calls! We schedule them between 7am-11am, and after 6pm.
I'm also still helping out the radio stations, doing an on-air shift here and there, and working on the stations' websites and social media. I'm blessed to be able to do two things in life that I really love.
At Effingham Computer Sales & Service, I say that we're different, because we are. Our rates are low, and our prices are comparable with the internet. I'd rather have customers for years than make a bunch of money and never see you again. We service primarily residential and small business. When it comes to a new system, we don't do the $100+ markup most shops do. We both know you can hop on Amazon and have something here in a few days. Instead, we do custom-built systems, giving you MUCH more for your money, with lost-lasting upgradability. We also sell brand names like Dell, HP, Lenovo, and Asus. Our goal is to help find the right system for you, move the data from your old system, set it up and provide local service and support that a big box or internet retailer won't give you.
We also do repairs and upgrades on all systems, and we don't do bench fees, ever. Estimates are always free!
So, if you need help, give us a try. We're proud to say we're different!